Blizzcon 2018 celebration starts early with the sale of the virtual ticket
Blizzcon virtual tickets have gone on sale today.


Blizzcon virtual tickets have gone on sale today. Even though the main event is only scheduled for November, they area already teasing people with all kinds of goodies. Now I for one think it's another money making scheme from Blizzard. I have honestly never seen the point in spending hard earned cash for something you can watch a few hours later on youtube.
The BlizzCon Virtual Ticket provides comprehensive access to the show whether you're joining the fun from home on BlizzCon.com or watching on the go with the free BlizzCon Mobile App (available now for Android and iOS).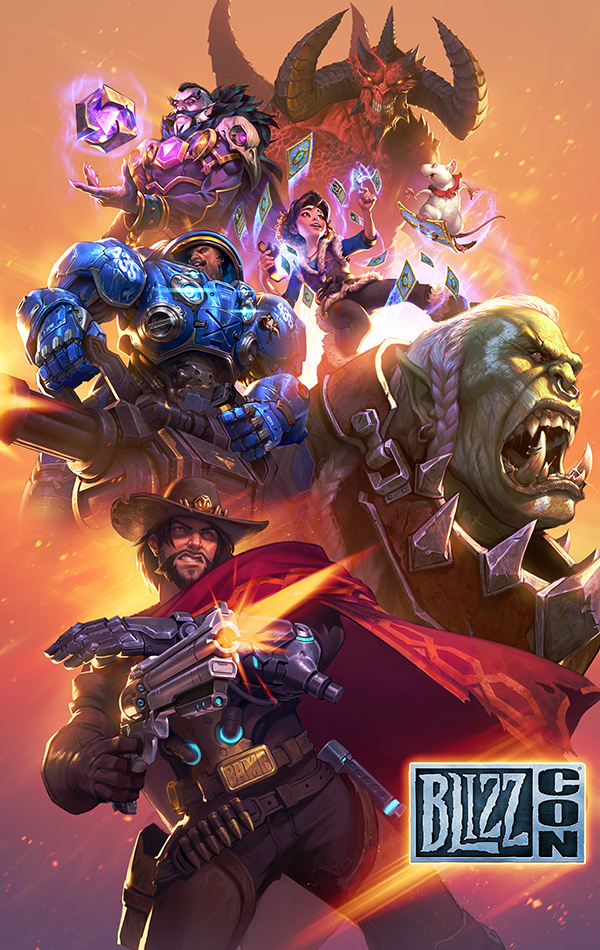 Never Miss a Moment: The opening ceremony and esports are free, but the Virtual Ticket is the only way to watch the Mythic, Legendary, and Epic stages live from home, so you won't miss any of the developer panels, Community Night contests, or epic closing festivities. Go even deeper with the BlizzCon All-Access Channel, complete with exclusive developer interviews, commentary, and more.
Explore Original BlizzCon Video Series: Unlock full access to unique BlizzCon programming that takes you behind the scenes at Blizzard and beyond the walls of the convention center. Discover Blizzard history inside The Vault, explore artists' creative process in Drawn to Adventure, and much more. New episodes debut regularly in the weeks leading up to BlizzCon—some available free, and all unlocked via the Virtual Ticket. Watch now!
Snag Epic In-Game Loot: Between now and the start of BlizzCon, unlock a treasure trove of commemorative in-game goodies for World of Warcraft®, StarCraft® II, StarCraft: Remastered, Heroes of the Storm®, Hearthstone®, and Diablo III. Kick things off with a legendary Overwatch Demon Hunter skin for Sombra—available in-game starting today.*
Help Shape the Show: Don't just watch BlizzCon—participate in it, too! Build a BlizzCon panel alongside others from the Blizzard community, then watch what you created come to life live during the main event. Head to the Build-a-Panel blog to vote on the latest topic. (Build-a-Panel voting will be available for a limited time.)
Watch On-Demand Replays: Miss a revelation during a World of Warcraft or Overwatch developer discussion? Does one of your must-see Hearthstone panels conflict with a can't-miss StarCraft II match? Relive your favorite moments on demand at BlizzCon.com or in the BlizzCon Mobile App. The Virtual Ticket also unlocks access to a wide variety of panels and original video series from the BlizzCon 2017 video archives.
Get Gear Bonuses: Order a Virtual Ticket, and you'll get a $10 discount off this year's Goody Bag, available for pre-order today while supplies last at http://gear.blizzard.com. You'll also get early access to the BlizzCon 2018 online merchandise sale so you can pick up sweet swag in advance of the show—more details will be announced in the weeks ahead.
Visit the Blizzard Shop to learn more and purchase this year's Virtual Ticket, and keep an eye on www.blizzcon.com to vote on the best moments from past BlizzCons and stay up-to-date on the latest BlizzCon news.
†The in-game items for Overwatch, StarCraft II, and StarCraft: Remastered will also be available separately in 2019—further details will be announced at a later date.
Unfortuantely in my mind it is mental to pay that much for virtual access to something that wont last. I will rather save it and buy Destiny 2: Forsaken for that money!