Destiny 2 moving from Battle.net to Steam — time to migrate
The switch will finalise the break-up of Bungie from Activision Blizzard.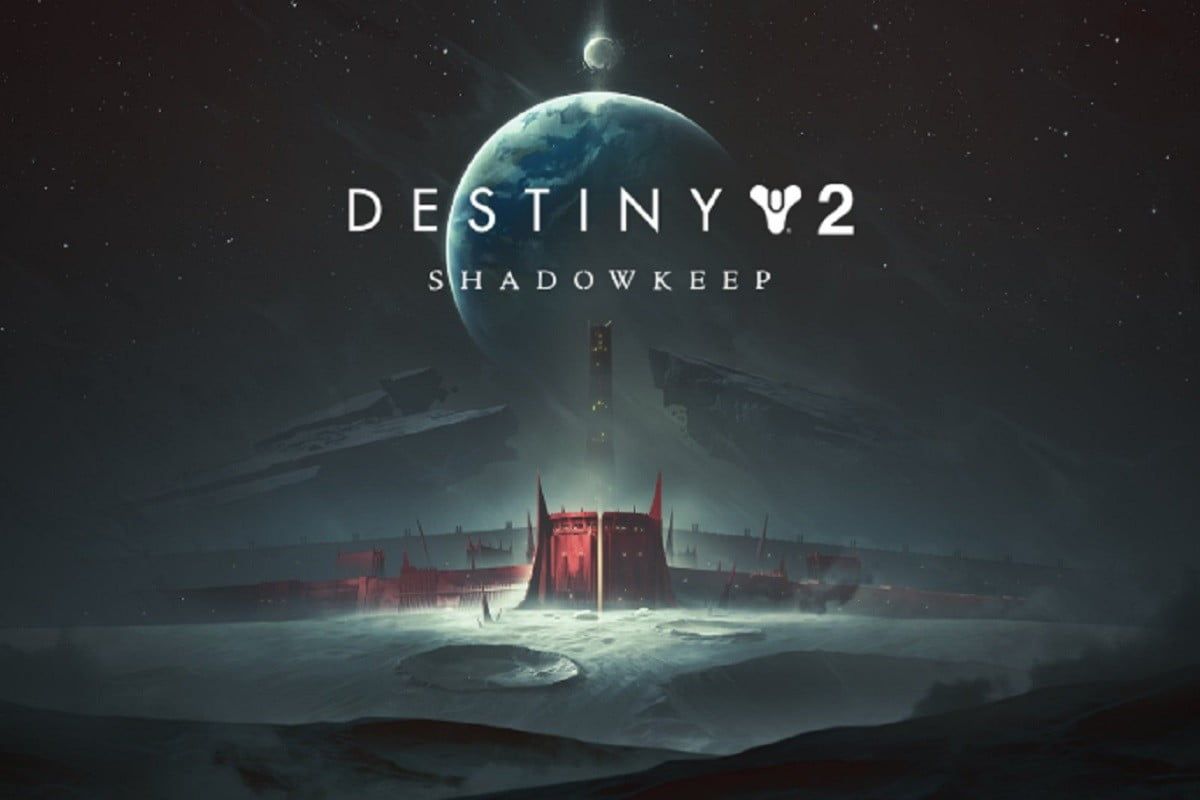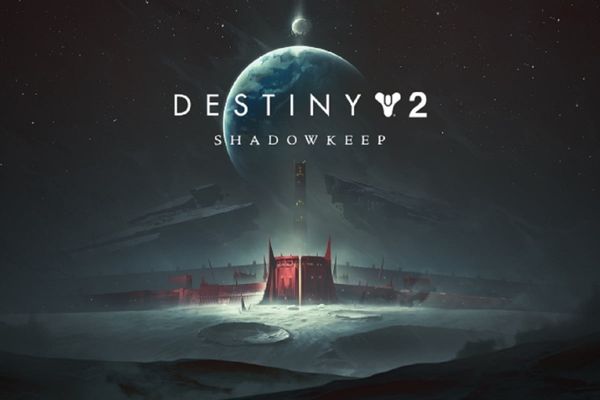 Blizzard has issued a final warning to Destiny 2 players on PC to migrate their account data for the game from Battle.net to Steam. The switch will finalise the break-up of Bungie from Activision Blizzard.
Bungie announced on 8 August that it would be switching the PC version of Destiny 2 from Battle.net to Steam. Players have until 30 September to migrate their accounts, or lose access to the game.
When Bungie first announced its split from Activision, it fuelled rumours that there was growing unhappiness between the two companies and that Activision had hamstrung Destiny 2. However, in a recent interview with Eurogamer, Bungie communications director David Dague said that the rumours were not true.
"I think we need to dispel the notion Activision was some prohibitive overlord that wasn't letting us do awesome things. We launched this franchise with Activision, naturally and over the course of time we both decided we had different goals for what we wanted it to be, so we both went our separate ways. It was amicable, and here we are making this game on our own, doing what we think we need to do to make it awesome.
Even if the break-up was amicable, the e-mail from Blizzard to those with Destiny 2 accounts was somewhat entertaining.
Blizzard couldn't bring itself to actually write "Steam" in the notice. Instead, it said that Destiny 2 will be transferring to "a new PC platform".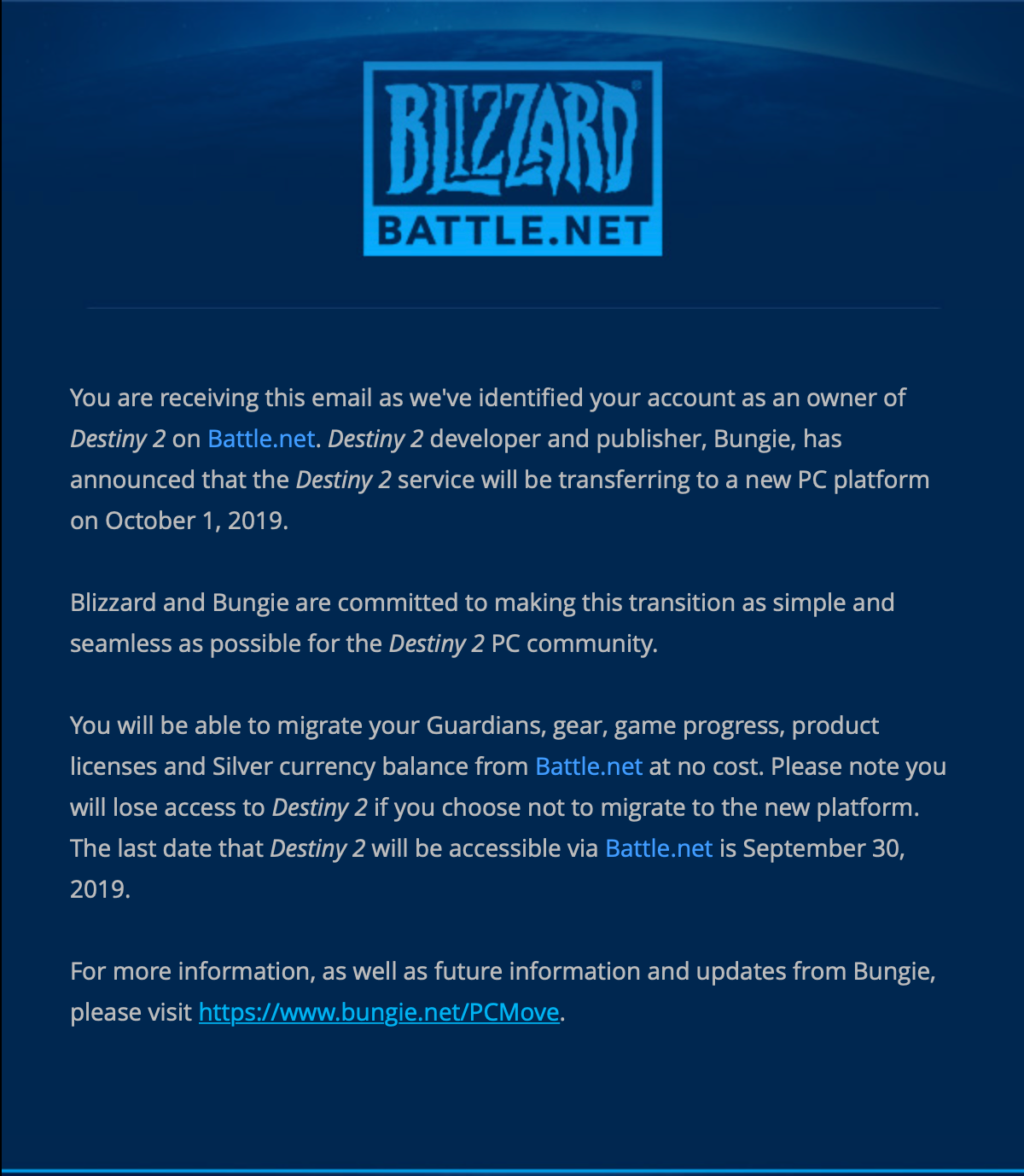 Destiny 2 developer and publisher, Bungie, has announced that the Destiny 2 service will be transferring to a new PC platform on October 1, 2019.

Blizzard and Bungie are committed to making this transition as simple and seamless as possible for the Destiny 2 PC community.

You will be able to migrate your Guardians, gear, game progress, product licenses and Silver currency balance from Battle.net at no cost. Please note you will lose access to Destiny 2 if you choose not to migrate to the new platform. The last date that Destiny 2 will be accessible via Battle.net is September 30, 2019.

For more information, as well as future information and updates from Bungie, please visit https://www.bungie.net/PCMove.
According to the FAQ on Bungie's site:
Which Destiny 2 purchases will transfer over from Battle.net to Steam?

The move from Battle.net to Steam will include a one-time transfer of ALL Destiny 2 content that a player already owns. These will include Player Accounts, Destiny 2, Expansions, Silver, Annual Pass, etc.

Can players pre-order Shadowkeep on Steam now and link accounts to accommodate the move later?

Yes. Players may purchase Destiny 2: Shadowkeep from Steam's product page right now. On August 20, we'll welcome PC players back to this page to begin the process of linking their accounts on Blizzard's Battle.net and Steam to facilitate the transfer of content on October 1.

What will we find on Steam on October 1?

Current players of Destiny 2 on PC will be welcome to continue their adventure in Destiny 2: Shadowkeep, the next chapter in the story. New players will be able to take their first steps into that world in Destiny 2: New Light.

What happens if I don't sign up to move my Guardians to Steam?

Unfortunately, Destiny will no longer be available on Blizzard's Battle.net after October 1. We hope you'll follow us to our new home to continue your journey. It just wouldn't be the same without you.
GameSpot reports that it is currently not possible to buy Destiny 2 on PC — it has been delisted on Battle.net and will not launch on Steam until 1 October.
While migrating from Battle.net and Steam, you can also set up Cross Save so you can play any of your Destiny 2 characters on PC, Xbox, or PlayStation.