In January, the South African esport sensation Team Bravado announced that they will be heading to the USA to compete in tournaments on a bigger scale. They dubbed this venture "Project Destiny".
The team has been staying and competing in the USA for two months now. Many people thought they would be severly undercut against their more seasoned opponents. Many people doubted whether or not they would make a dent in the American market. Let us then take a look at what they've been up to, and how their performance has been going so far.
ESEA League performance
Bravado is currently competing in the North American leg of the ESEA League Counter Strike: Global Offence competition. After a very strong start, the South Africans are currently sitting at 7th overall in the CS:GO Main category.

Source
Strong performances going forward will mean that they can stand a good chance to progressing further in the competition.
World Electronic Sports Games
Bravado put up a good showing at the ongoing WESG competition, held in China. They were knocked out by TeamOne in a Group B deciding match. The team may have felt that their performance was a bit worse than expected, but it's still a great accomplishment they've achieved.
Our #CSGO team goes down to @teamoneesports and out of the @WESG_CN in the round of 16. Not the performance we hoped for but we'll be back!

THANK YOU to everyone for the insane support!

We're proudly sponsored by @Alienware & @Intel_Africa #bvdgaming #bvdalienware #bvdintel pic.twitter.com/370cBSWJuy

— Bravado Gaming (@bravadogaming) March 15, 2018
Esports Championship Series Season 5 - North American Challenger Cup
Bravado faced the best of the best in this series of games. After climbing the ranks they reached the play-offs, where they were again beaten by TeamOne.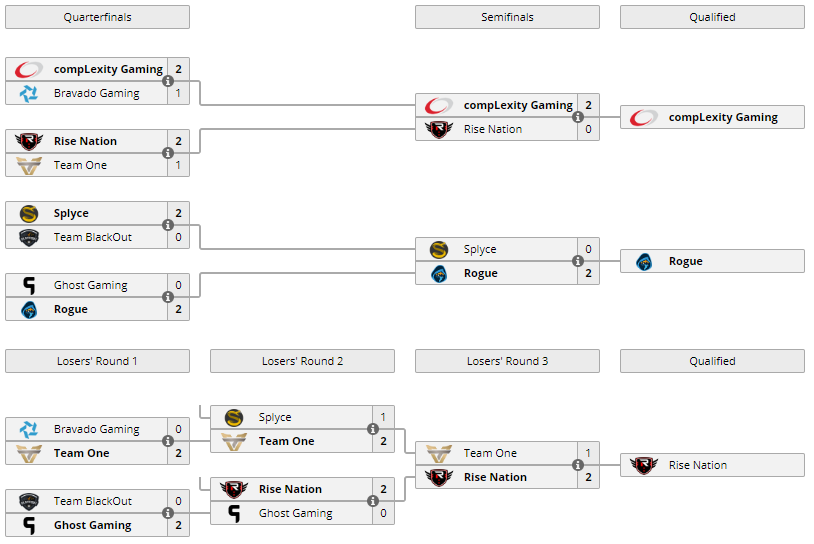 Source
Life in the USA
As with any big changes in anyones life, the team had to adjust to living, practicing and competing in the USA. Dimitri 'Detrony' Hadjipaschali, captain of the team, had this to say:
With regards to WESG, preparation has been going well. The daily routine for the past two weeks has been starting at 12pm, latest 2pm. In the morning prior to getting to our computers, we have breakfast together, we gym and before we get to our ALIENWARE PC's, everyone showers so we feel fresh and energized. Usually we prep or practice all the way through till 9pm on average. That includes official games such as ESEA for example. We've been more focused on improving the unit more than individual practice.
We've been trying to iron out a lot of issues by reviewing our demos. Thankfully we have a lot of material to use through that Pre-Game cup we played and the ECS Challengers Cup we played. Obviously we have a lot of time to play and spend in game so we have dedicated a lot of our time to watching those demos and improving. There's so much stuff that takes up a lot of time apart from scrimming and practicing and working out new things. We are focusing on removing our mistakes and making fewer errors. That's pretty much been practice recently
Source
The team has still a lot of competition and matches scheduled for "Project Destiny" It is truly special to see the South African flag in amongst all the American flags. We hope they get the most of this opportunity, wish them all the best and keep flying the flag of the Rainbow Nation!