Game Releases for October 2022
October is looking chockful of new game releases across genres. AAA titles, sports titles, indie games, superheroes, and a PS to PC convert too.


It's almost October already. The year has flown by and we're already in the last quarter of 2022. Which, at least for gamers, is possibly the best time of the year... The last quarter of the year is when a lot of developers and publishers get release versions of their games onto the shelves in time for the end of year sales.
Add to that the fact that a lot of the game development delays that happened through 2020 and 2021 have been caught up on now. All that means we'll be spoiled for choice this year with a range of games from AAA blockbusters through to tiny indie developed titles. And the release flood is starting this October. Here's a brief look at a baker's dozen of those releases.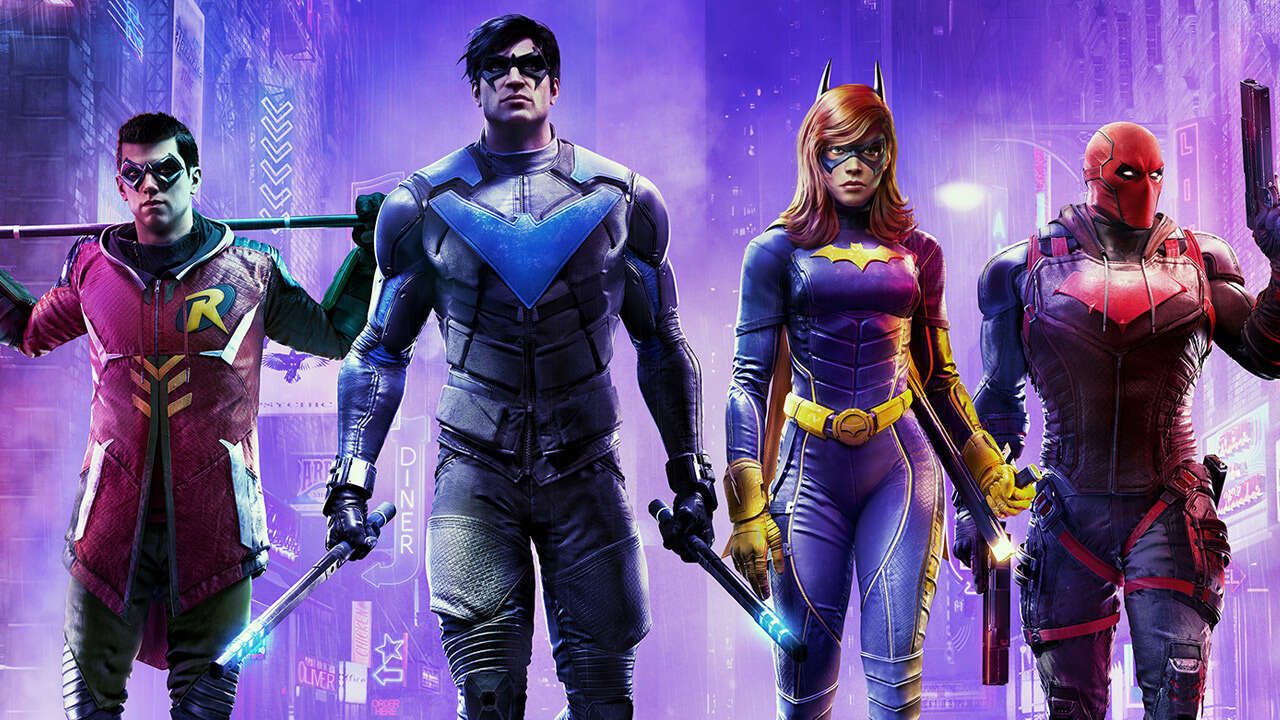 Dakar Desert Rally
4 October - PC, PS5, XSX, PS4, XBO, Switch
Dakar Desert Rally is the biggest and most epic off-road rally racing adventure ever developed. Dakar Desert Rally captures the genuine speed and excitement of Amaury Sport Organisation's largest rally race on the planet, featuring a wide variety of licensed vehicles from the world's top makers, including motorcycles, cars, trucks, quads and SSVs. The game offers unique challenges for off-road simulation diehards and casual racing fans alike. Compete in fierce online multiplayer races or navigate the vast wilds in single-player offline.
Lego Bricktales
12 October - PC, PS4, XBO, Switch
Embark on an epic adventure across a world of beautiful LEGO diorama biomes crafted brick by brick as you search for inspiration to help your grandfather reinvigorate his rundown amusement park with your little robot buddy in tow. Your journey will take you to the deepest jungle, sun-drenched deserts, a bustling city corner, a towering medieval castle, and tropical Caribbean islands. Help the minifigures of these worlds by solving puzzles and unlock new skills throughout the story to further explore these worlds and uncover the many secrets and mysteries they contain.
NHL 23
14 October - PS5, XSX, PS4, XBO
Powered by the Frostbite engine, NHL 23 brings fans new levels of authenticity with gameplay improvements that include over 500 new last chance playmaking animations, living arenas and atmosphere, deep franchise-mode customization and new ways to play HUT, including the addition of IIHF Women's National Teams in HUT, allowing the best women's and men's players in the world to compete on one lineup.
PGA Tour 2K23
14 October - PC, PS5, XSX, PS4, XBO
Hit the links with more swagger in PGA TOUR 2K23. Take your skills, and your swag, on the PGA TOUR and become the next FedExCup Champion. Compete against other TOUR pros with your MyPLAYER and establish new rivalries. For the first time, play as male and female pros including Tiger Woods, in online and local play! PGA TOUR 2K23 features multiple licensed courses, including East Lake Golf Club, St. George's Golf and Country Club, TPC Scottsdale, and TPC Sawgrass to name a few. Drop into Topgolf from wherever you are solo or with your crew, in competitive 1-4 player local and online play, bringing the fun and excitement to both casual and seasoned players.
A Plague Tale: Requiem
18 October - PC, XSX, PS5, Switch + Game Pass
Far across the sea, an island calls… Embark on a heartrending journey into a brutal, breathtaking world twisted by supernatural forces. After escaping their devastated homeland, Amicia and Hugo travel far south, to new regions and vibrant cities. There, they attempt to start a new life and control Hugo's curse. But, when Hugo's powers reawaken, death and destruction return in a flood of devouring rats. Forced to flee once more, the siblings place their hopes in a prophesized island that may hold the key to saving Hugo.
Ghostbusters: Spirits Unleashed
18 October - PC, PS5, XSX, PS4, XBO
Ghostbusters: Spirits Unleashed is a fun, multiplayer game perfect for all skill levels. Four proton pack wielding Ghostbusters attempt to catch a Ghost haunting unique locations in asymmetrical multiplayer battles (online or offline). As players progress, they will unlock cosmetics and upgrades for both Ghostbusters and Ghosts to evolve their gameplay experiences. The look and feel will deliver to fans an immersive experience in the universe, allowing them to play out their Ghostbusting fantasies. Whether hunting or haunting, the game is easy to learn and fun to master!
Uncharted: Legacy of Thieves Collection
19 October - PC
Are You Ready To Seek Your Fortune? Seek your fortune and leave your mark on the map in the Uncharted: Legacy of Thieves Collection. Uncover the thrilling cinematic storytelling and the largest blockbuster action set pieces in the Uncharted franchise, packed with all the wit, cunning, and over the top moments of the beloved thieves – Nathan Drake and Chloe Frazer. In an experience delivered by award winning developer Naughty Dog, the Uncharted: Legacy of Thieves Collection includes the two critically-acclaimed, globe-trotting single player adventures from Uncharted 4: A Thief's End and Uncharted: The Lost Legacy. Each story is filled with laughs, drama, high octane combat, and a sense of wonder – remastered to be even more immersive.
Gotham Knights
21 October - PC, XSX, PS5
Batman is dead. A new expansive, criminal underworld has swept the streets of Gotham City. It is now up to the Batman Family - Batgirl, Nightwing, Red Hood, and Robin - to protect Gotham, bring hope to its citizens, discipline to its cops, and fear to its criminals. From solving mysteries that connect the darkest chapters in the city's history to defeating notorious villains in epic confrontations. Gotham Knights is an open-world, action RPG set in the most dynamic and interactive Gotham City yet. Patrol Gotham's five distinct boroughs in solo or in co-op and drop in on criminal activity wherever you find it. Your legacy begins now. Step into the Knight.
Persona 5 Royal
21 October - PC, XSX, PS5, XBO, PS4, Switch + Game Pass
Prepare for the award-winning RPG experience in this definitive edition of Persona 5 Royal, featuring a treasure trove of downloadable content included! Forced to transfer to a high school in Tokyo, the protagonist has a strange dream. "You truly are a prisoner of fate. In the near future, ruin awaits you." With the goal of "rehabilitation" looming overhead, he must save others from distorted desires by donning the mask of a Phantom Thief. Explore Tokyo, unlock Personas, customize your own personal Thieves Den, experience alternate endings, and more. Become the ultimate Phantom Thief and defy conventions, discover the power within, and fight for justice in the definitive version of Personal 5 Royal.
Scorn
21 October - PC, XSX + Game Pass
Scorn is an atmospheric first-person horror adventure game set in a nightmarish universe of odd forms and sombre tapestry. It is designed around the idea of "being thrown into the world". Isolated and lost inside this dream-like world, you will explore different interconnected regions in a non-linear fashion. The unsettling environment is a character itself. Every location contains its own theme (story), puzzles and characters that are integral in creating a cohesive world. Throughout the game you will open up new areas, acquire different skill sets, weapons, various items and try to comprehend the sights presented to you.
New Tales from the Borderlands
21 October - PC, XSX, PS5, XBO, PS4, Switch
Take a stand against ruthless corporate overlords in this narrative-driven adventure! Within the perpetually war-torn metropolis of Promethea, you'll control Anu, Octavio, and Fran on the worst day of their lives. Help these three lovable losers as they endeavour to change the world (and maybe even save it)! Face down a planetary invasion, vicious vault monster, and cold-hearted capitalists in this cinematic thrill ride where what happens next is up to you! Meet a motley cast full of misfits, assassin bots, and talking guns in this race to the top! It's time to fight back against exploitation and corporate greed. It's time to make Mayhem your business.
Mount & Blade II: Bannerlord
25 October - PC, XSX, PS5, XBO, PS4, Switch
The horns sound, the ravens gather. An empire is torn by civil war. Beyond its borders, new kingdoms rise. Gird on your sword, don your armour, summon your followers and ride forth to win glory on the battlefields of Calradia. Establish your hegemony and create a new world out of the ashes of the old. Mount & Blade II: Bannerlord is the eagerly awaited sequel to the acclaimed medieval combat simulator and role-playing game Mount & Blade: Warband. Set 200 years before, it expands both the detailed fighting system and the world of Calradia. Bombard mountain fastnesses with siege engines, establish secret criminal empires in the back alleys of cities, or charge into the thick of chaotic battles in your quest for power.
Call of Duty: Modern Warfare II
28 October - PC, XSX, PS5, XBO, PS4
Welcome to the new era of Call of Duty. Modern Warfare II drops players into an unprecedented global conflict that features the return of the iconic Operators of Task Force 141. From small-scale, high-stakes infiltration tactical ops to highly classified missions, players will deploy alongside friends in a truly immersive experience. Infinity Ward brings fans state-of-the-art gameplay, with all-new gun handling, advanced AI system, a new Gunsmith and a suite of other gameplay and graphical innovations that elevate the franchise to new heights. Modern Warfare II will launch with a globe-trotting single-player campaign, immersive Multiplayer combat and a narrative-driven, co-op Special Ops experience.
---
October 2022 Video Game Releases
A more complete list of new releases and new to platform releases for October 2022.
Dakar Desert Rally [PC, PS5, XSX, PS4, XBO, Switch] – October 4
Overwatch 2 [PC, PS5, XSX, PS4, XBO, Switch] – October 4
Deathverse: Let It Die [PC] – October 5
NieR:Automata The End of YoRHa Edition [Switch] – October 6
Triple Take [PC] – October 6
No Man's Sky [Switch] – October 7
Superpower 3 [PC] – October 7
No More Heroes 3 [PC] – October 11
PGA Tour 2K23 Deluxe Edition [PC, PS5, XSX, PS4, XBO] – October 11
Lego Bricktales [PC, PS4, XBO, Switch] – October 12
TimeMelters [PC] – October 12
Dying Light 2 Stay Human: Bloody Ties DLC [PC, PS5, XSX, PS4, XBO] – October 13
The Eternal Cylinder [PS5, XSX] – October 13
Fueled Up [PC, PS4, XBO] – October 13
Lost Eidolons [PC] – October 13
Sunday Gold [PC] – October 13
Triangle Strategy [PC] – October 13
WRC Generations [PS5, XSX, PS4, XBO] – October 13
Dragon Ball: The Breakers [PC, PS4, XBO, Switch] – October 14
No More Heroes 3 [PS5, XSX, PS4, XBO] – October 14
PGA Tour 2K23 Standard Edition [PC, PS5, XSX, PS4, XBO] – October 14
Taiko no Tatsujin: Rhythm Festival [Switch] – October 14
A Plague Tale: Requiem [PC, XSX, PS5, Switch] – October 18
Marvel Snap [PC] – October 18
Them's Fightin' Herds [PS5, XSX, PS4, XBO, Switch] – October 18
Destiny's Sword [PC] – October 19
The Last Worker [PC] – October 19
Uncharted: Legacy of Thieves Collection [PC] – October 19
Batora: Lost Haven [PC, PS5, XSX, PS4, XBO] – October 20
Hell is Others [PC] – October 20
Mario + Rabbids: Sparks of Hope [Switch] – October 20
Warhammer 40,000: Shootas, Blood & Teef [PC, PS5, XSX, PS4, XBO, Switch] – October 20
Gotham Knights [PC, PS5, XSX] – October 21
New Tales from the Borderlands [PC, PS5, XSX, PS4, XBO, Switch] – October 21
Persona 5 Royale [PC, PS5, XSX, XBO, Switch] – October 21
Scorn [PC, XSX] – October 21
Horse Club Adventures 2 - Hazelwood Stories [PC, PS4, XBO, Switch] – October 25
Victoria 3 [PC] – October 25
Moonshine Inc. [PC] – October 27
Saturnalia [PC, PS5, XSX, PS4, XBO, Switch] – October 27
Star Ocean The Divine Force [PC, PS5, XSX, PS4, XBO] – October 27
Bayonetta 3 [Switch] – October 28
Call of Duty: Modern Warfare 2 [PC, PS5, XSX, PS4, XBO] – October 28 (Call of Duty Modern Warfare 2 pre-orders)
Factorio [Switch] – October 28
The Unliving [PC] – October 31
---