Two Point Campus - a new simulation building game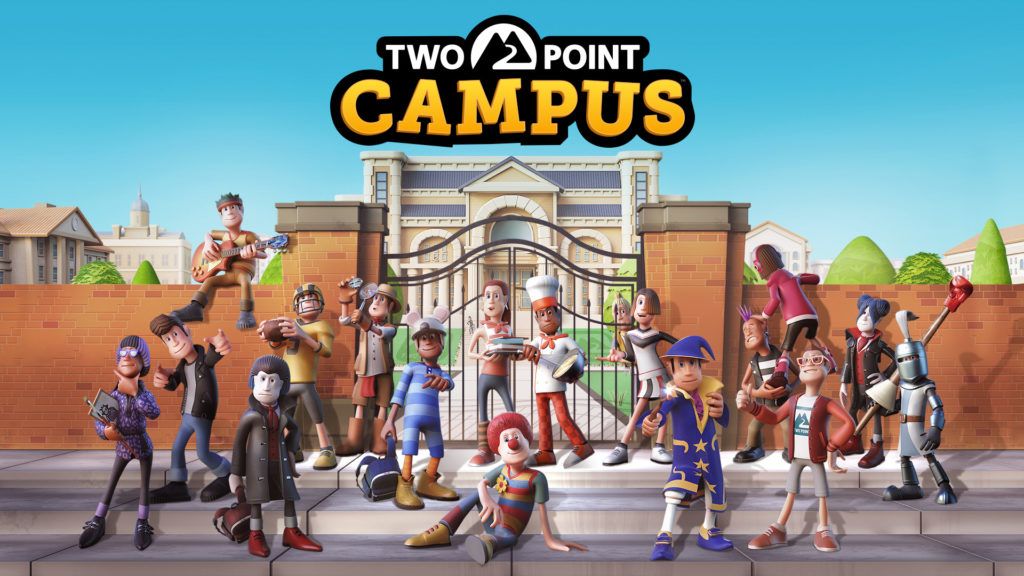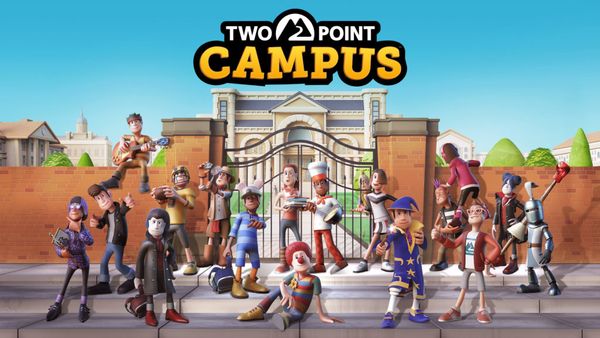 You've saved patients in Two Point Hospital - hopefully. Now you can educate them in Two Point Campus. A new simulation game arriving in 2022. In the same cheerful graphics style of Two Point Hospital you will be able to create the University Campus you always wanted but never had. Shaping the lives of your students as you plan interesting activities for them.
Building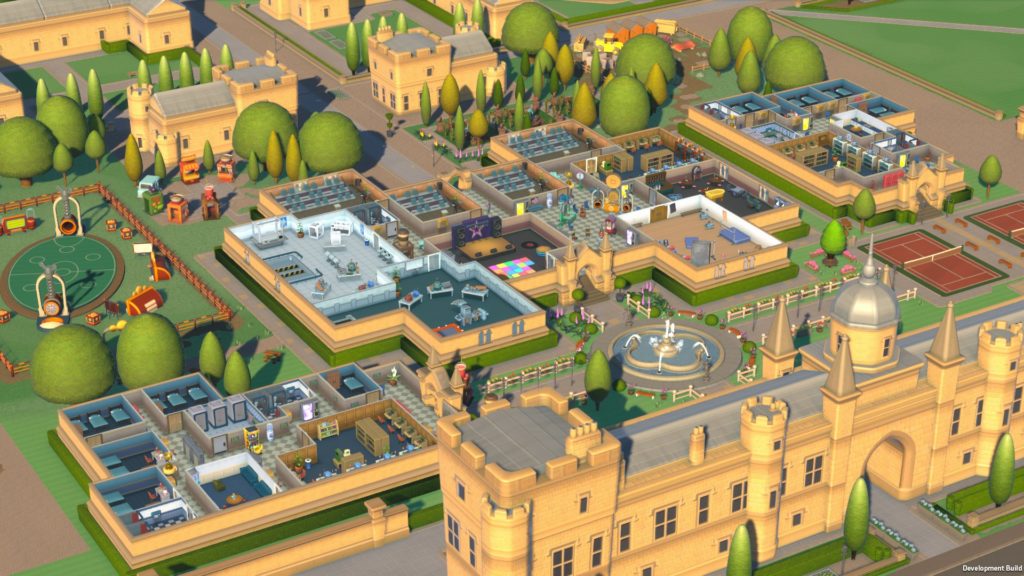 Unlike Two Point Hospital the building happens outdoors this time. You'll be able to place buildings and paths. You could even place every tree yourself if that strikes your fancy.
There is a twist
We can't just have boring history lectures in Two Point County.No, students want to go to Knight School (as opposed to night school) or join in on some salivatory Gastronomy where students create giant pizzas - who wouldn't want a giant pizza?
Academically speaking
Get your University looking just right during summer break for your students to arrive. Hire some ecentric proffesors and mad researchers. Select the courses that will unlock the academic potential of your students.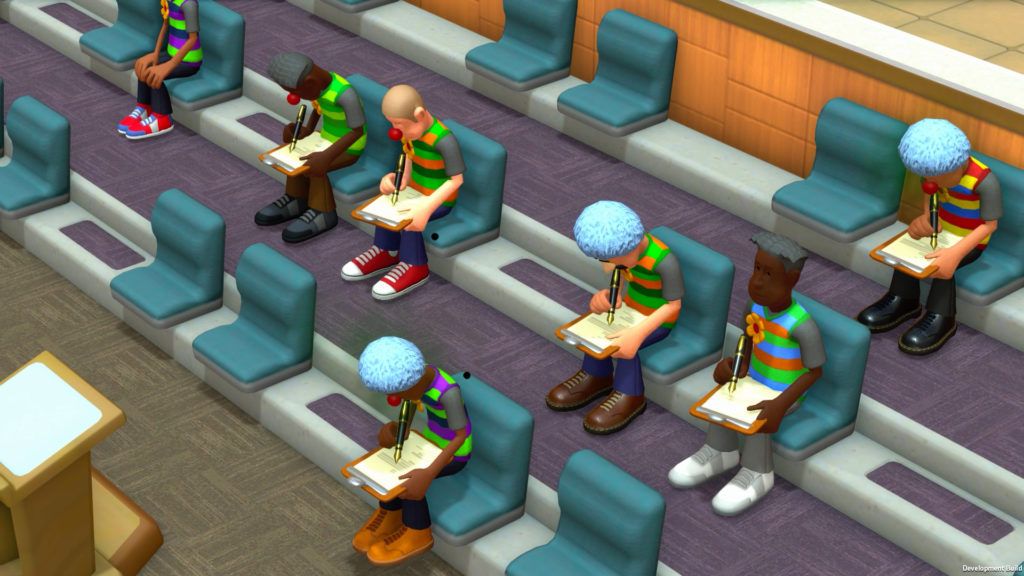 It's not all studying at Two Point Campus though. You've got to keep your studnets happy with clubs, societies and gigs. Explore their personalities, surround them with friends and ensure they develop into individuals that Two Point Campus would be proud of.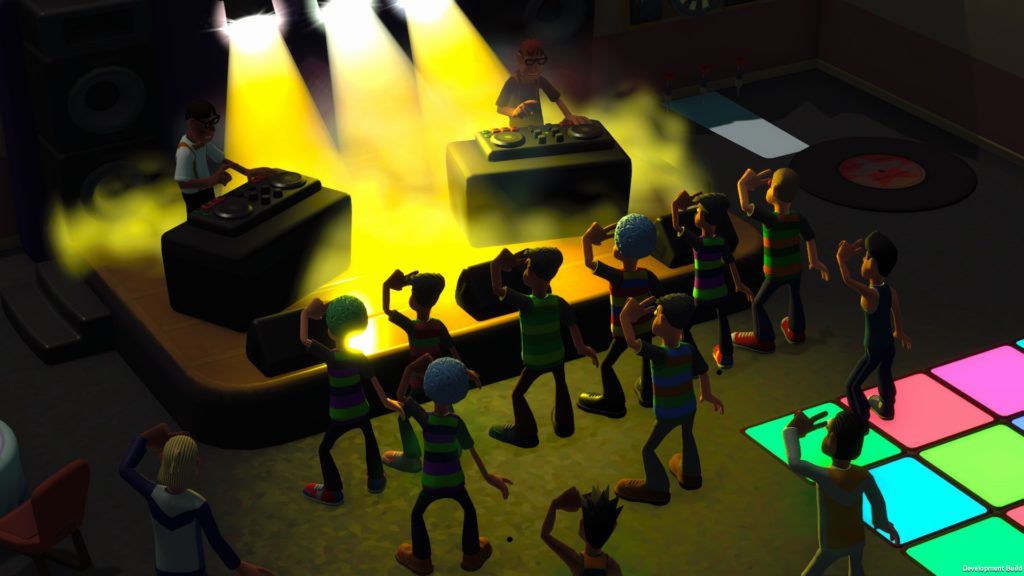 Two Point Studios have released a pre-order trailer:
Some of the pre-order bonus items are a 'U' Shaped topiary for the garden, a Fountain of knowledge and a Pearl of Wisdom. If you own Two Point Hospital you also receive Campus themed items to spruce up your Hospital.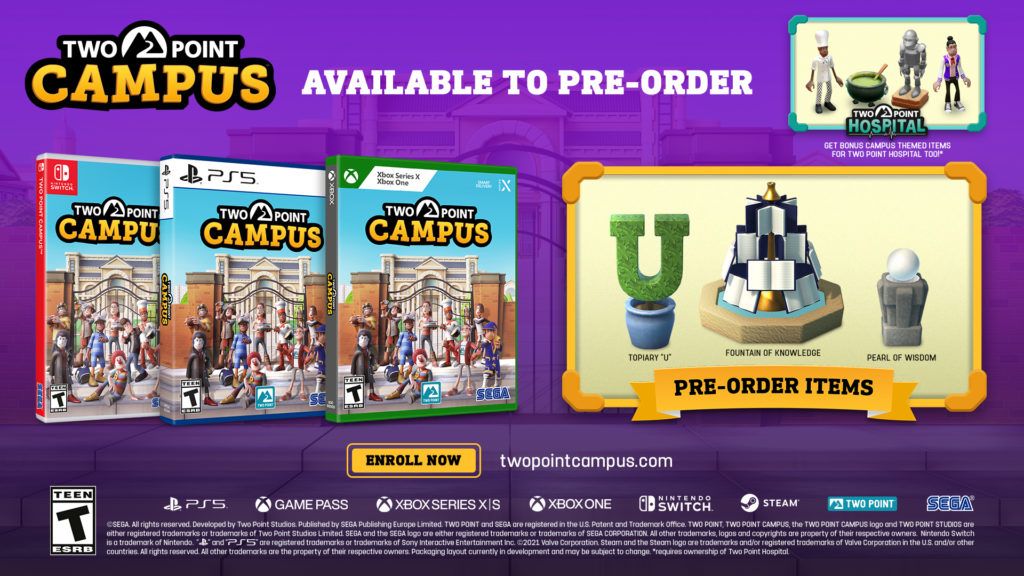 If you want to get free content for the game and updates from the development team then you should sign up for Two Point County Pass.
Follow along on the various socials if you'd like to join the community: twitter, facebook, instagram
Who, when, where, how much?
Title: Two Point Campus
Developer: Two Point Studios
Publisher: SEGA
Release Date: May 17th 2022
Platforms: PC, PS4, PS5, XBOX Series X|S, XBOX One, Nintendo Switch
Two Point Campus Will also be a day 1 release on game pass.
Price: R 719
System requirements
MINIMUM:
Requires a 64-bit processor and operating system
OS: Windows 7 64-bit
Processor: Intel Core i3 6100 or AMD FX-4350
Memory: 4 GB RAM
Graphics: NVIDIA Geforce GT 1030, 2GB (Legacy: NVIDIA GeForce GTX 460), AMD RX550, 2GB (Legacy: AMD Radeon HD 6850), Integrated: Intel HD Graphics 630
DirectX: Version 11
Storage: 6 GB available space
RECOMMENDED:
Requires a 64-bit processor and operating system
OS: Windows 10 64-bit
Processor: Intel Core i5 6600 or AMD Ryzen 1600x
Memory: 8 GB RAM
Graphics: NVIDIA Geforce GTX 1060, 3 GB (Legacy: NVIDIA Geforce GTX 780, 4GB) or AMD RX 580, 4 GB (Legacy: AMD R9 290X, 4GB)
DirectX: Version 11
Storage: 6 GB available space