Fortnite developer Epic Games is suing Apple, calling the App Store a monopoly and asking the US courts to grant it injunctive relief, The Verge reported.
This comes after Epic enabled a feature in Fortnite for iOS that let it circumvent the platform's built-in payment system and avoid paying a 30% cut of its sales from in-game microtransactions to Apple.
Apple responded by removing Fortnite from the app store.
"Epic brings this suit to end Apple's unfair and anti-competitive actions that Apple undertakes to unlawfully maintain its monopoly in two distinct, multi billion dollar markets: (i) the iOS App Distribution Market, and (ii) the iOS In-App Payment Processing Market," the company stated in its complaint.
Epic is not seeking monetary compensation from this Court for the injuries it has suffered. Nor is Epic seeking favorable treatment for itself, a single company. Instead, Epic is seeking injunctive relief to allow fair competition in these two key markets that directly affect hundreds of millions of consumers and tens of thousands, if not more, of third-party app developers.
Well orchestrated publicity stunt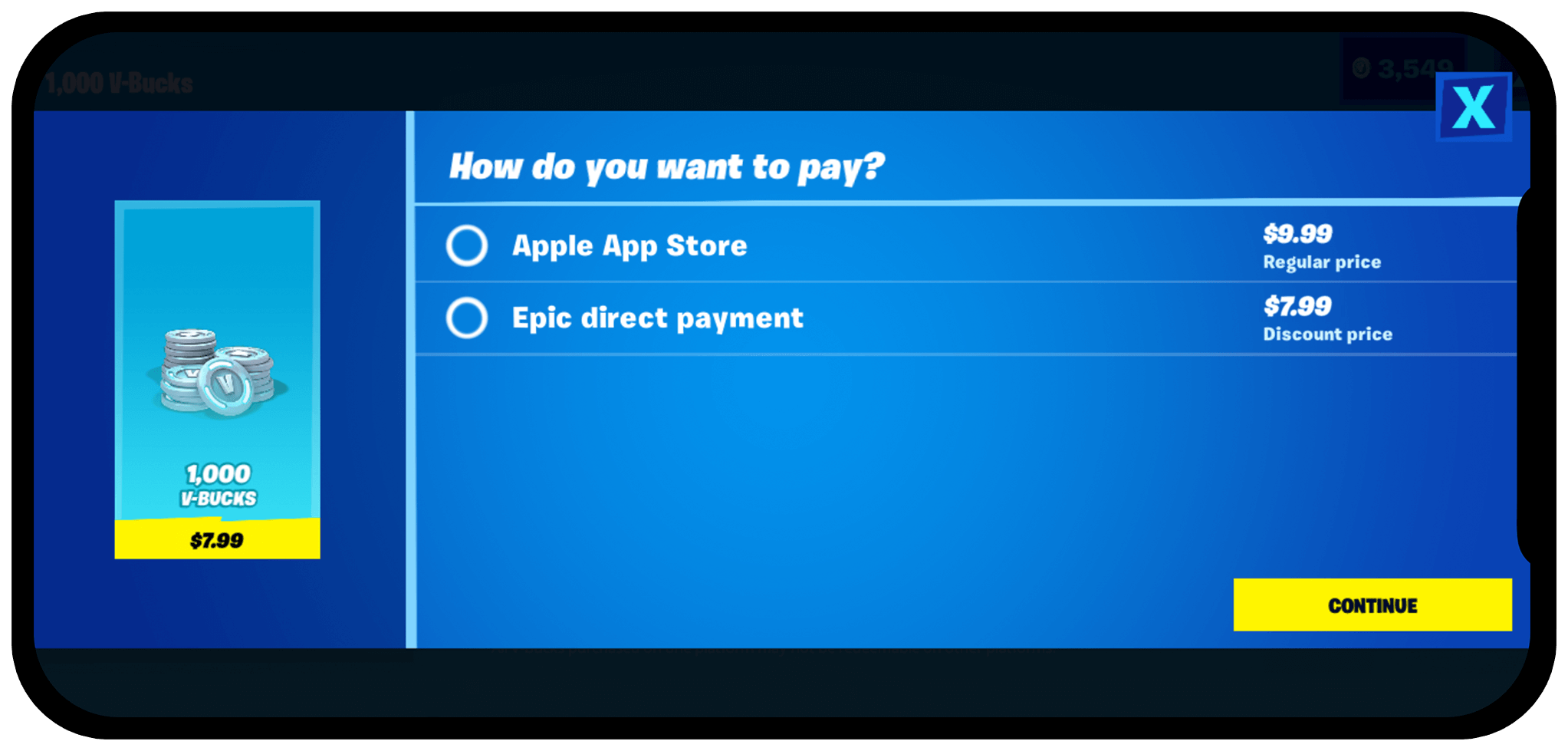 The way this has played out, it is clear that Epic Games knew exactly what it was doing and anticipated how Apple would react.
Earlier today, Epic announced that it was permanently discounting the price of Fortnite's in-game currency, V-Bucks.
On PCs and consoles the price of 1,000 V-Bucks was reduced from $9.99 to $7.99. Epic made clear that this was not a sale, but a permanent change in price.
However, on mobile devices Epic introduced a "direct payment" option at the new discounted price alongside the option to pay via the App Store or Google Play at the original price point.
In its announcement Epic cast itself as a consumer champion, saying that it was passing on the payment processing savings on to gamers.
"Currently, when using Apple and Google payment options, Apple and Google collect a 30% fee, and the up to 20% price drop does not apply. If Apple or Google lower their fees on payments in the future, Epic will pass along the savings to you."
In addition to having a 65-page court filing ready to go when Apple inevitably pulled Fortnite off of the App Store, Epic had also produced a video that parodies Apple's famous 1984 commercial for the original Macintosh.
Epic's parody is called "Nineteen Eighty-Fortnite" and promotes the hashtag #FreeFortnite.
Fortnite on iOS still runs, you just can't install it if you don't already have it
The Verge reported that players who already have Fortnite installed on their iOS can continue to play it.
At the time of publication it was also reportedly still possible to buy V-Bucks in Fortnite for iOS through either Epic's discounted "direct payment" option, or through the official App Store payment system.
Epic stated in an FAQ posted to its website that Fortnite will continue to work on iOS until the release of Chapter 2 – Season 4.
"Players accessing Fortnite will still be able to play the 13.40 version of Fortnite, but will not be able to access any new content or the new Battle Pass."